Exhibiting and co-sponsoring the biggest Brazilian electricity event
PPC Santana on SNPTEE 2017
Exhibiting and co-sponsoring the biggest Brazilian electricity event
Between October 22th and 25th PPC Santana welcomed its partners, customers, and visitors on their exhibition booth at 24th National Seminar on the Production and Transmission of Electric Power (SNPTEE). Curitiba, Paraná in Brazil was once again the place, where the most important companies and professionals from South American electricity sector met, exchange their knowledge, present their work, products, and new ideas.
As a market leader and the only producer of HV and UHV porcelain insulators in South America, PPC Santana has presented itself under the slogan Better Resistance. Stronger Insulation. Superior Performance. From full product portfolio, three products were exhibiting – hybrid insulator, solid core insulator and post insulators – with main focus placed on hybrid insulators, which are becoming more and more important in PPC Santana portfolio.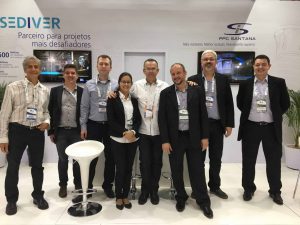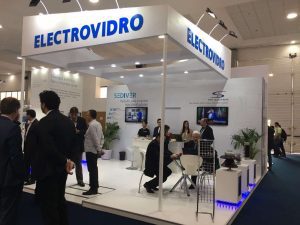 The highlight of this year's SNPTEE was the Hybrid insulator, which was showed on the booth and used in the Belo Monte HVDC project. "PPC Santana stands for reliable, high-quality insulators, present on the market for more than 75 years. That is why we find it important to be present on SNPTEE. We want to use one of the central events in our region to show our solutions to our customers and partners, by addressing their technological advantages," explained Eduardo Hilsdorf, PPC Santana Sales Director.
As in previous years, teamed up with Sediver, PPC Santana has actively co-sponsored SNPTEE, actively supporting the industry and its most important commercial event, which yet again proved to be a place of interesting discussions and a stimulating exchange of ideas.
PPC Insulators
With over 130 years of experience, PPC Insulators is a leading manufacturer of porcelain, hybrid and composite insulators for the overhead lines, substations and precipitator applications. We invest our efforts to offer quick, easy and effective solutions to our customers. Our extensive knowledge, expertise and production technology enables us to produce the best insulator designs to cater up to 1200kV AC and 1100kV DC system voltages, that positions us at the forefront of techno-industrial achievements. We supply over 40,000 standard insulators from our stock to meet the demands of our customers. Learn more at www.ppcinsulators.com
Contact information
Natasa Skuk
Marketing Communications Manager
natasa.skuk@ppcinsulators.com