Online improvements to support a growing list of PPC agents and distributors
PPC Launches Extended World Contacts Webpage to Improve Customer Experience
Online improvements to support a growing list of PPC agents and distributors
PPC Insulators is happy to announce the launch of a newly revamped PPC World Contact page. With improved overview and usability delivering better customer experience, new web contacts' page is designed to offer user-friendly access to customers looking for contact information.
By providing a full list of PPC manufacturing plants and commercial offices, new PPC World Contact page now includes also a large, diverse, and geographically distributed team of PPC agents and distributors. As the circle of PPC business partners is rapidly growing, it was important to integrate them in PPC network and make them easily accessible to customers around the world.
With three drop-down menus and responsive, interactive map, PPC World Contacts webpage offers two access points for selecting, filtering and finding required contact info in a transparent and at the same time appealing way.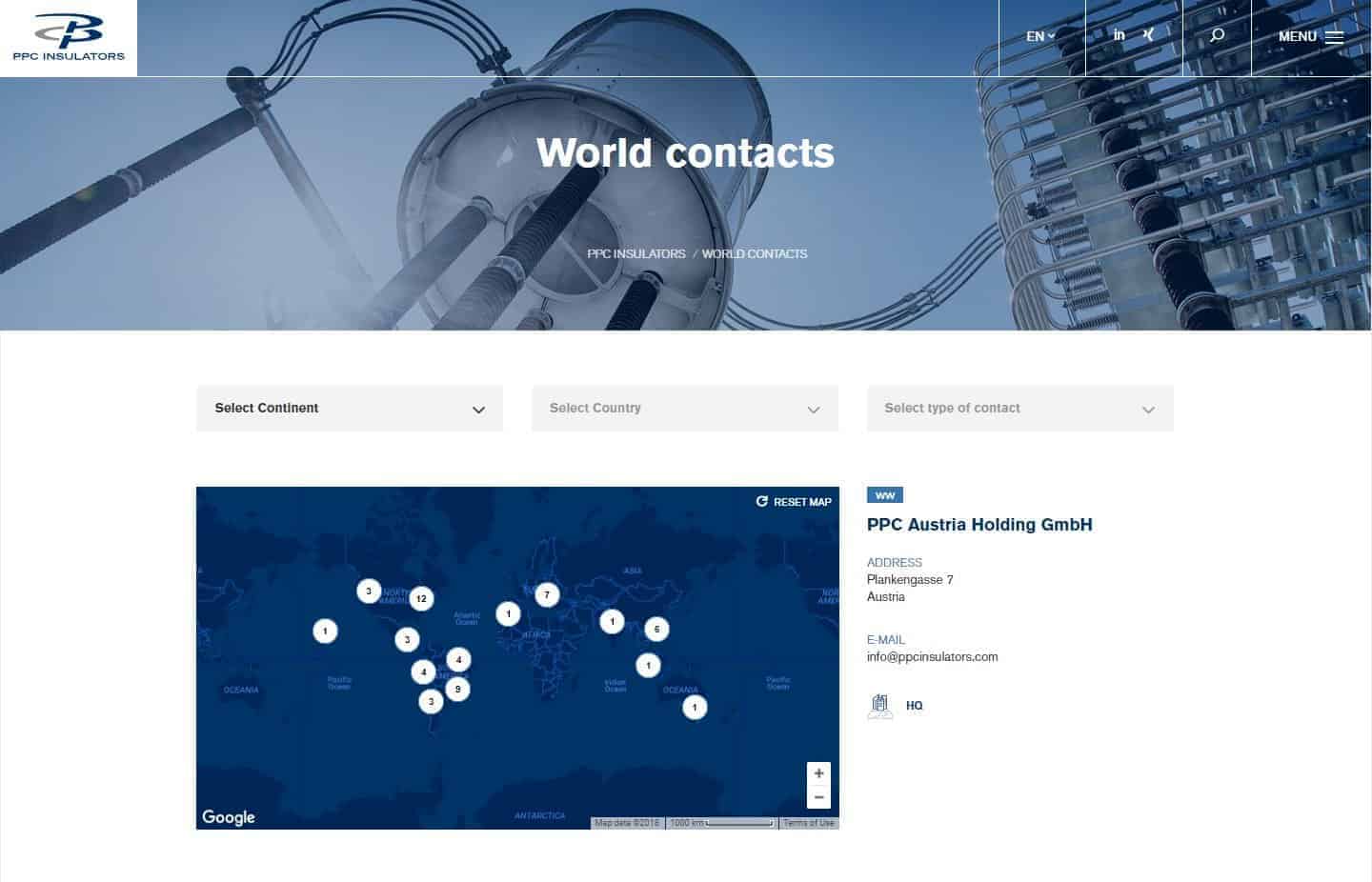 This agile and responsive online enhancement will help customers see, access and contact full PPC network,  providing a quick, effective and positive user experience.
About PPC Insulators Group
With over 130 years of experience, PPC Insulators is a leading manufacturer of porcelain, hybrid and composite insulators for the overhead lines, substations and precipitator applications. We invest our efforts to offer quick, easy and effective solutions to our customers. Our extensive knowledge, expertise and production technology enables us to produce the best insulator designs to cater up to 1200 kV AC and 1100 kV DC system voltages that positions us at the forefront of techno-industrial achievements. We supply over 40,000 standard insulators from our stock to meet the demands of our customers. Learn more at www.ppcinsulators.com
Press Contact
Natasa Skuk, M.A.
Marketing Communications Manager
natasa.skuk@ppcinsulators.com