PPC Porcelain Post InsulatorsAdvanced post insulator designs
PPC offers the most comprehensive range of porcelain post insulators up to highest AC and DC system voltages with the most progressive technology, engineering and life time. Short production time, tighter tolerances, flexible design, extra-high mechanical strength and extended creepage distances are possible by isostatic process.
Further optimized insulator designs have been developed by PPC with ultra-high mechanical strength and maximum extended creepage distances.
It was not possible to manufacture such insulators using conventional porcelain production technology, but the Isostatic technology enables such designs to be produced by PPC Insulators.
Dimensions
Length per piece
max. 2.900 mm
max. 114.17 in
Shed diameter
max. 520 mm
max. 20.47 in
Core diameter
60 mm - 300 mm
2.4 in - 11.81 in
Creepage distance
up to 55 mm/kV
up to 2.2 in/kV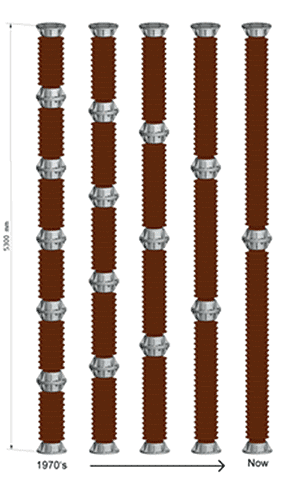 Our advanced post designs include the following advantages:
fewer single sections per insulator column, therefore fewer metal parts
shorter column heights while maintaining IEC 60815 requirements and fulfilling all additional electrical requirements
improved flashover distance
better pollution performance via improved Form Factor acc. to IEC 60815
reduced weight, better material utilization, optimized logistics
Decreased metal usage (fewer points of exposure to corrosion)
less field concentrating positions
improved mechanical stability, rigidity and robustness
Depending on environmental conditions and the requested pollution performance of the insulator, we are able to produce all possible shed designs as defined in the IEC 60815 including:
alternating shed
plain shed
under rib shed
rain shed
plus unique shed designs e.g. for 800 kV DC applications
IEC Post Insulators
PPC Insulators production facilities for IEC station post insulators manufacture in full accordance to IEC60273. Operating rod columns for disconnectors are manufactured corresponding to the relevant post insulators. Insulation requirements are available in ratings from BIL 60kV to >2550kV.
Insulator creepage distances are in accordance with IEC60273 and IEC60815. Special requirements, such as other creepage distances, special shed forms or pitch circle diameters, can also be offered upon request.
ANSI Post Insulators
The PPC production facilities for TR station post insulators manufacture in full accordance with ANSI C29.9. Insulation requirements are available in ratings from 95 kV to 2050 kV. Special requirements can be also offered upon request.
DIS-TRAN PACKAGED SUBSTATIONS
SOUTHERN ELECTRICAL EQUIP
Frequently Asked Questions
What is the maximum possible cantilever strength offered by PPC Insulators?
The maximum bending strength PPC can offer for its post insulators is >40kN. Depending on the height, up to 100 kN can be achieved.
What is the maximum creepage distance PPC Insulators can utilize on a post insulator?
Acc. to IEC TS 60815-1:2008, IEC TS 60815-2:2008 and IEC TS 60815-4:2016
How many single piece columns can PPC insulator offer for a defined class of BIL?
For example, BIL 1050 can be offered as a single piece unit, BIL 2550 can be offered as a 2-piece design.
What maintenance do we recommend on our insulators?
None in particular, however, depending on environment occasional cleaning can be considered.
Is Isostatic a Wet or Dry process?
The Isostatic process is a Wet process, the drying process is performed in the early stages of production. The key element of Wet process is that the materials are mixed with water to ensure a homogeneous slip, comprising a mixture of clays with 50% water. The Traditional Wet process, used for several thousand years for many ceramic products, forms the product in its wet form which is then dried. However, the Isostatic process dries the material first.
Is there any difference in the product produced conventionally versus isostatic?