Earth Day 2022: "Start where you are, use what you have and do what you can".
PPC Santana in Brazil is a plant that loves nature and continuously transforms the behavior of its employees to be more nature-friendly and shape daily life to be sustainability-driven.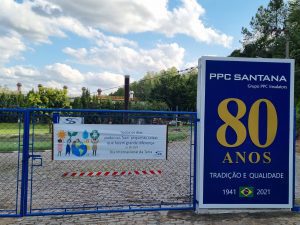 Earth Day is regularly commemorated in PPC Santana and in 2022 a few new activities started. The key phrase leading Earth Day 2022 was: "Start where you are, use what you have, and do what you can".
This year, on Earth Day (the 22nd of April), the company triggered a few projects, which are proving that the ecological attitude is a real and constant element of its philosophy and one of its top priorities. We would like to present them along with the photodocumentaries:
In the past company introduced the bulleting boards informing about the news regarding conscious consumption of water and electricity, recycling, hygiene, health, and improvement of standards of conduct and compliance. On top of this, recently the employees have been encouraged to persist and do what they can to correct the course of waste and improve its behavior towards preserving the environment. Thus, Santana launched an invitation to all employees to support the city's campaigns, considering that:
Only 22% of all plastic used is properly disposed of and recycled. 78% still go to landfills, rivers, and oceans.
There is an industry in a neighboring city that consumes all the styrofoam that Pedreira manages to recover. Many use styrofoam packaging every day and discard them incorrectly because they are unaware that it has become recyclable material.
A schoolteacher and her team have been working hard to turn plastic caps into food, medication, or castration for stray animals. Fortunately, many people are contributing, and this has helped to alleviate the condition of abandoned animals, a fact that has increased with the difficulties generated by the pandemic.
There are people who need a wheelchair to reduce mobility difficulties due to illness, accidents, or age, but do not have the resources to buy it. One initiative that ended up being embraced throughout the country was the capture of aluminum seals. 140 bottles with approximately 2100 seals each can be exchanged for a wheelchair.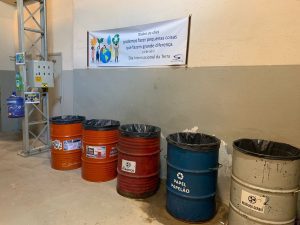 Edna Alves, Executive Assistant to the Operations Director comments on this:
"All four items are noble and more than relevant reasons for us to contribute to the campaign! Colleagues from Santana immediately made their contributions, donating a significant amount of aluminum seals. The week before, we posted an invitation to all the employees on the murals so that they told their children about the campaign and encourage them to know and take good care of the planet. May they can have a better world, recovered inclusive by themselves."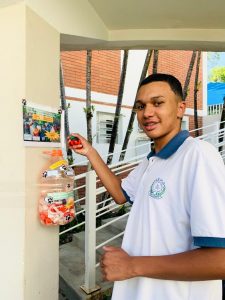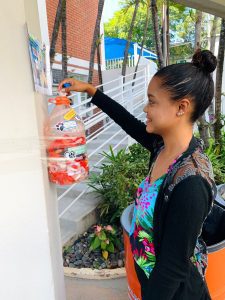 Photo related to the Earth Day approach and distribution of a bookmark dedicated to the event with the phrase "Start where you are, use what you have, and do what you can".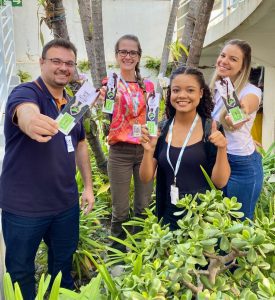 The former tree-planting activities, which took place in the years 2017 and 2021, are documented in the following photos.
More than 100 trees were planted in 2017 in the area of a public school within the project "Bosque da Família".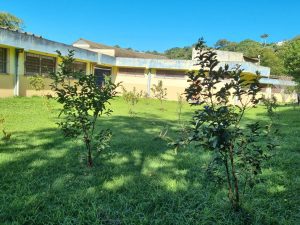 The fruit trees planted in HV Plant on Earth Day last year are prospering too. Soon they will bring their first fruits.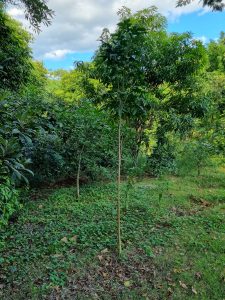 PPC Santana selective collection program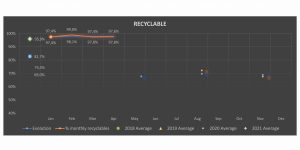 André Ariolli, the engineer coordinator of the company's Environmental Management Department, comments on the results: – "We had a considerable evolution in the percentage of recyclables as of 2018, from an average of 69.0% to 97.8%, thanks to the work of the departments of Environmental Management (André Ariolli and Fabiano Moraes) and Procurement (Roberto Carlotti), in the search for partners to dispose of some materials that were previously discarded in specific landfills.
The main items of this evolution work were
the destination of porcelain scrap from plant 1; cement leftovers from the assembly/ cementing process; mortar used to wedge the pieces in the firing process,
and the installation of a residual water filtering system for cleaning vats and accessories with cement from the assembly/ cementing process, which allowed for the retention of solid material that can also be recycled.
 Above all, the awareness of the people involved that it must be a continuous process so that only the minimum necessary, which possibility of reuse is still an expectation, is sent to landfills".