Winning project ADANI – Mohindergarh with Quality
Winning project ADANI – Mohindergarh with Quality
Challenging parameters of required insulators met successfully
PPC Insulators is happy to announce the continuation in collaboration with GE T&D India, that placed order for insulators for ADANI – Mohindergarh project.
As a result of the successful electrical and mechanical type tests performed at PPC ČAB during 2018, PPC received a purchase order for porcelain insulators C47,5 – 1550 for a 420 kV power system with the mechanical strength 47,5 kN. Achieving such a high level of mechanical strength with the insulator height of 3,5 m is extremely challenging for the isostatic technology and almost unrealistic for the conventional "wet" manufacturing process.
GE T&D India has been a respected customer with a long-term relationship for several years and several cases of effectual cooperation. PPC Insulators already supplied the same insulators during 2018 for PGCIL project Mandola / Ballabhgarh. Since PPC Insulators successfully catered to the technical demands put forth by applications for PGCIL projects – GE T&D India replaces its trust in PPC Insulators for the same type of insulators in 2020. These post insulators will be used for the application of TRV capacitors.
"The design of this insulator is really exceptional. With the core diameter nearing to 300 mm, to fire porcelain with the mechanical strength of 47,5 kN is outstandingly difficult. The value of strength we guarantee with the height of 3,5 m is at the limit of manufacturing possibilities," said Michal Ďurák; R&D, Design Engineer at PPC ČAB.
PPC ČAB is one of few plants worldwide, which is capable to produce porcelain insulators with such demanding design and special parameters. The project ADANI – Mohindergarh is the prime reference that highlights the advantages of experienced engineering and advanced isostatic manufacturing technology available at PPC Insulators.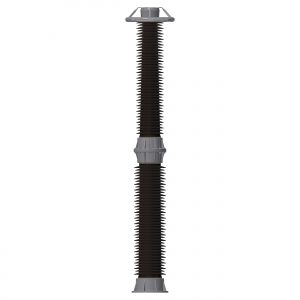 About PPC Insulators Group
With over 130 years of experience, PPC Insulators is a leading manufacturer of porcelain, hybrid and composite insulators for overhead lines, substations, and precipitator applications. We invest our efforts to offer quick, easy, and effective solutions to our customers. Our extensive knowledge, expertise, and production technology enable us to produce the best insulator designs to cater up to 1200kV AC and 1100kV DC system voltages that position us at the forefront of techno-industrial achievements. Learn more at www.ppcinsulators.com